Footwear and apparel markets are valued at USD 620.08 Bn in 2022 and are expected to reach USD 902.7 Bn by 2027, according to Business Wire Inc. So, what does this mean for the footwear retail outlook and how does it relate to people counting?
For instance, footwear revenues are expected to grow with user penetration at 40.4% in 2024 as a result of growth from 35.2% in 2020 amounting to $166m. This is a great opportunity for retailers to take on new challenges in scaling businesses. Above all, it shows their competitiveness in the industry with the use of Internet-of-Things (IoT) technologies such as people counting.
Are you an innovative retailer who maximizes technology benefits to scale up your business?
Are you obsessed over understanding your customer behaviours at your retail store?
Are you constantly evolving on your core values to manage a sustainable retail business?
Answering "YES" to all the above questions, is the beginning of your journey with Tapway.
Click here to get in touch now!
As the competition is rising in the retail sector, we often ask ourselves:
How do we utilize tracking technologies to automate measurements?
How do we assess footfall traffic and customer behaviour in real time?
How do we measure KPI for marketing strategies to align with the expected growth?
To dive into the questions above on how we use the Internet-of-Things (IoT) to achieve our goals, let's look into one of our retail client's profiles and the results we achieve together – till this date.
Customer Profile:
Company A is the leading footwear retail chain in the world and in the APAC region. With more than 200 retail chain stores all over Malaysia, Company A sells more than 10 million pairs of shoes yearly.
As an innovative retailer and obsessed over customer needs and behaviours, Company A caters to all income group levels wearable for babies, toddlers, children, ladies and men.
Constantly evolving is the core value to sustain business for Company A. They enjoy the benefits of tracking technologies to access retail outlet performance crucial for top management's real-time decision making.
Challenges before onboarding with Tapway:
Company A struggles to understand and collect data insights on each store performance apart from using sales data as the main measurement.
Incomplete footfall data insights & analytics


Lack of data to compare and derive real time store conversion rate % with existing legacy people-counting sensors

Dependent on manual methods to understand customer behaviour at outlets


Using tallying, human observation methods to keep track of retail performance

Unable to capitalize peak hour and traffic trends at multiple outlets


Unable to track marketing campaigns performance of Online2Offline "o2o" and staff allocation in each outlet to cater for high traffic
Tapway team arranged an in-depth half-day session with Company A's marketing, operations and IT management team to drive how we can achieve the SMART goals set by the team.
Tapway solutions to drive continuous innovation for retailers:

First, Tapway executed goal #1: 
Replacing legacy people-counting dashboard with Tapway Dashboard

Derive real-time store conversion rate (%) automatically

Automated real-time tracking on traffic by hour, daily, weekly, yearly reports available

Real-time access to Tapway Live Dashboard for instant decision-making process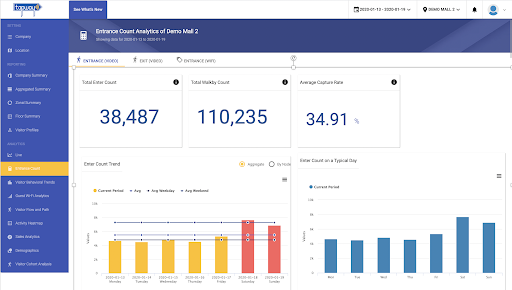 Read about our Retail analytics solutions here.
Why not explore our PeopleTrack solutions instead?
Tapway continued with goal #2: 
Collecting heatmapping data to analyze customer behaviour at outlets

Automated real-time traffic heatmap by zone 

Hot & cold area in the store visualized on floor map

Detect unique and returning visitors in the store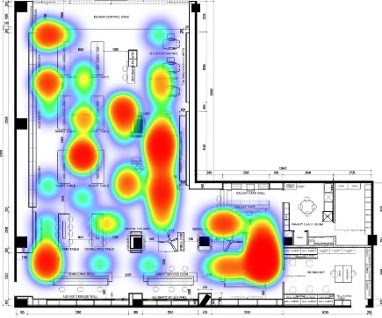 Lastly, goal number #3:
 Displaying heatmap data based on peak hour & traffic trends

Identify peak hour in the outlet instantly in real-time

Compare day-to-day data for adjustment on staff count

Easily track marketing campaign performance with automated count captured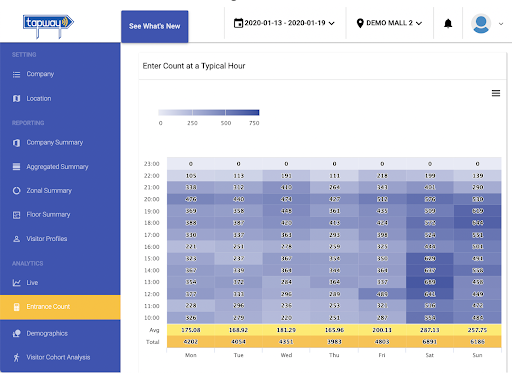 These data are crucial and important to have; while you and your management team plan on marketing strategies and forecast outlook on sales based on traffic count trends.
What results did Tapway bring an impact on Company A?
In less than 3 months, together with Company A and Tapway solutions, we achieved key milestones:
Automated traffic retail analytics in-store with ready reports to be analyzed

Increased 5% average visit frequency to more than once per month

Over 20% growth in marketing campaign response rate

More than 10% growth in Net Promoter Score with better operation management
Read about our Retail analytics solutions here.
Why not explore our PeopleTrack solutions instead?
Analysis is shared with the management of Company A for benchmarking and improvement plans to manage the stores in different locations. Replicating the success above from store to store; and monitoring the automated data analysis has led Company A to achieve:
An

innovative

retailer in maximizing technology benefits to scale up business in the APAC region;

Breaking the code on

obsessed

in analyzing customer behaviours at retail stores;

Core value as

constantly evolving

to manage a sustainable retail business
You can do the same, it is time to start a new challenge and roadmap with Tapway.
Click here to scale your retail business to gain a competitive edge with Tapway.