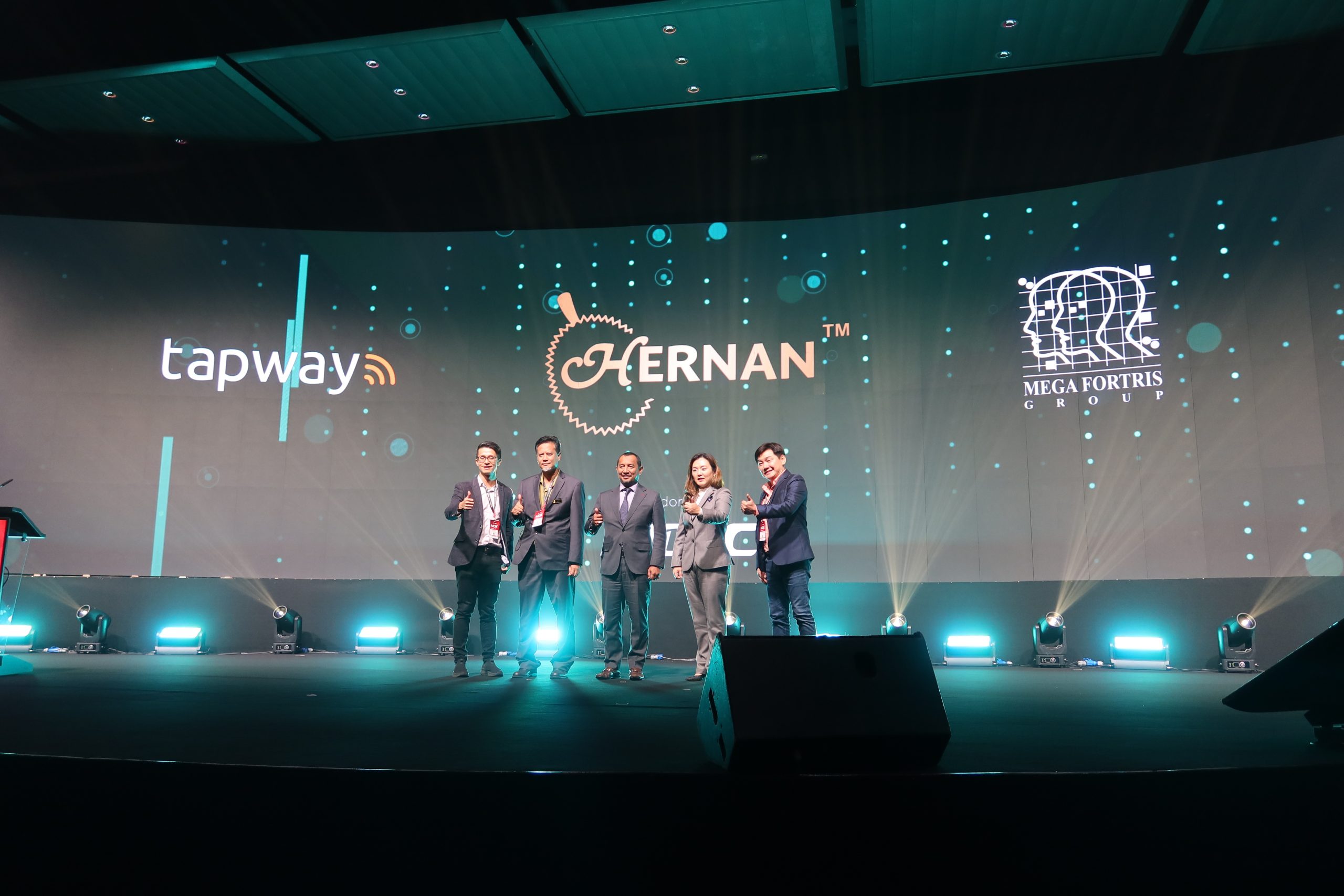 KUALA LUMPUR, MALAYSIA – November 8, 2023 – In an unprecedented collaboration, Hernan, Malaysia's largest and leading exporter of Malaysian durians, Tapway, the leading Artificial Intelligence solution provider in Southeast Asia, and Mega Fortris, a distinguished manufacturer and supplier of high-quality tamper-evident security seals, security labels, and security bags, have joined forces to revolutionise the durian industry with the introduction of a state-of-the-art Digital AgTech AI-Powered Durian Grading System.
This groundbreaking development in the durian industry was officially unveiled at the Malaysia Digital Expo 2023 (MDX 2023) Grand Finale, which took place on November 7, 2023. The prestigious event was graced by esteemed personalities and industry leaders, including Anna Teo, Founder and CEO of Hernan Corporation Sdn Bhd; Adrian Ng, Group CEO at Mega Fortris; Chee How Lim, Founder and CEO of Tapway Sdn Bhd; Datuk Lokman Hakim Bin Ali, Secretary-General of the Ministry of Agriculture and Food Security; and YM Engku Zakir Hussein, Deputy Director of Agriculture Division of Ministry of Economy.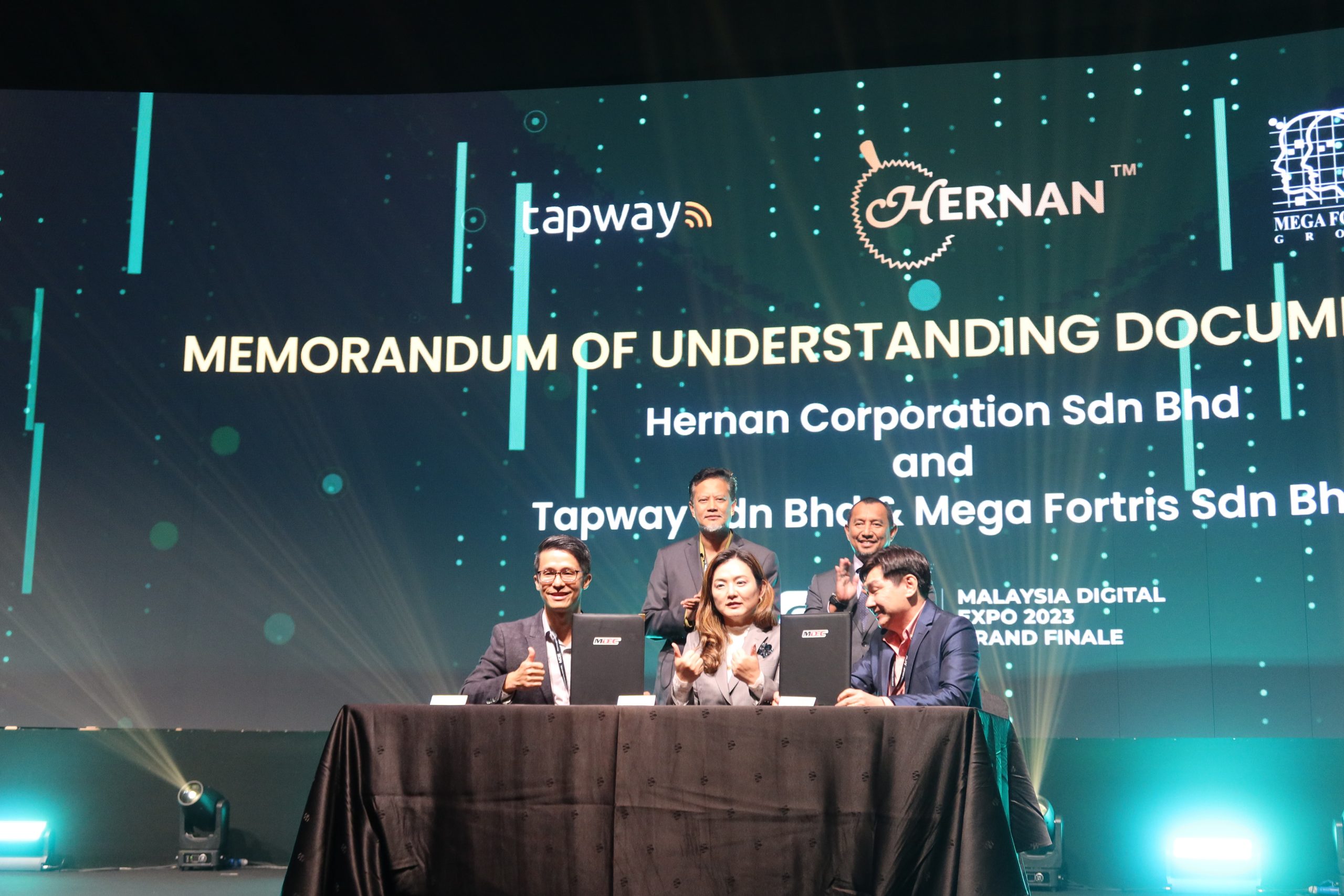 The Digital AgTech AI-Powered Durian Grading System represents a paradigm shift in the way durians are harvested, sorted, and graded, offering a myriad of benefits to durian producers, consumers, and the environment. With the integration of cutting-edge Artificial Intelligence (AI) technology, this innovative system enables real-time, precise grading of durians based on various quality parameters, including size and shapes, ensuring that only the finest durians reach the market.
Key Features of the Digital AgTech AI-Powered Durian Grading System:
1. AI-Powered Precision: The system utilizes advanced AI algorithms to accurately and consistently grade durians, significantly reducing the risk of human error and ensuring quality consistency.
2. Increased Efficiency: Streamlined processes lead to increased efficiency in durian grading, reducing labor costs and waste.
3. Sustainability: By reducing the number of durians rejected due to quality issues, this system helps minimize food waste and environmental impact.
4. Traceability: The system offers comprehensive traceability, enabling better quality control, and improved accountability throughout the supply chain.
5. Enhanced Consumer Experience: Consumers can now enjoy durians of superior quality and flavor, as only the best durians make it to the market.
The Digital AgTech AI-Powered Durian Grading System has already started its implementation and the collaborative trio envisions its adoption on a larger scale in the near future.
About Hernan
Hernan is Malaysia's premier exporter of a wide range of durian products, renowned for their high-quality durian treats and frozen durians. The company is committed to providing the world with the finest Malaysian durians.
About Mega Fortris
Mega Fortris is a globally recognized manufacturer and supplier of tamper-evident security solutions, serving various industries. Their security seals, labels, and bags provide peace of mind to customers worldwide, ensuring the safe and secure transportation of goods.
About Tapway
Tapway is a leading Artificial Intelligence solution provider in Southeast Asia, specializing in AI-driven solutions for various industries. Tapway's innovative technologies have a profound impact on business efficiency and customer satisfaction. Talk to us for more information.