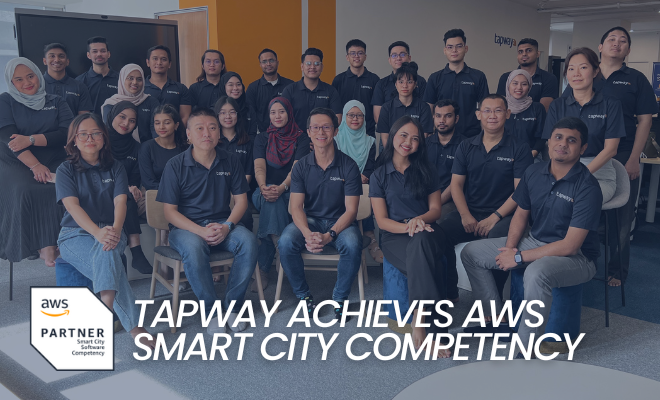 23 May 2023 – Tapway, Where The Best Gets Better, announced today that it has achieved the Amazon Web Services (AWS) Smart City Competency in the Smart Urban Transportation category. This designation recognizes Tapway as an AWS Partner that helps customers and the partner community build and deploy innovative Smart City solutions.
Achieving the AWS Smart City Competency distinction in the Smart Urban Transportation category differentiates Tapway as a member of the AWS Partner Network (APN) that has demonstrated technical proficiency and proven customer success supporting city governments and city developers who are witnessing an unprecedented rate of urban growth. Tapway is equipped to handle challenges for building smarter municipalities and more environmentally sustainable cities. As cities grow, they will require technology solutions that improve urban spatial planning, infrastructure, and city governance.
"Achieving AWS Smart City Competency status recognizes Tapway's proven track record of building and delivering Computer Vision platform and applications using Deep Learning technology at scale and in real time for customers in the transportation sector and beyond," said Chee How, CEO & Founder of Tapway.
AWS is enabling scalable, flexible, and cost-effective solutions from startups to global enterprises. To support the seamless integration and deployment of these solutions, AWS established the AWS Competency Program to help customers identify APN members with deep industry experience and expertise.
Tapway captures real-time processes and understands event patterns for smart sustainable cities to improve quality of life, efficiency of urban operations and services. These include vehicle recognition for access control, public safety, traffic violation and more.

About
Tapway 
Tapway works with businesses to improve productivity and reduce manual labor by transforming video feeds into intelligence and actionable insights. Talk to us for more information.